VND-14-trillion loss from HCMC traffic jams
Source: http://vnexpress.net/Vietnam/Xa-hoi/2007/09/3B9FA744/
Written by Phan Anh - Kiên Cường
Translated into English by language123(Thanh Hiếu) and Phan Thị Mai Trang
It is an annual loss announced yesterday (Sept 20) by the Department of Transportation and Public Works. Again, many measures, for instance stacking school and office schedules, building subways and monorails, are proposed. Experts, however, have stated that HCMC needs headquarters specializing in preventing
gridlocks
.
The amount of 14,000 billion completely lost from the
city traffic jams
is nearly a half of the domestic budget revenue of 2006, is equivalent to the total damage of the 2006-nation-bird-flu and is much enough for irrigational systems for the whole Mekong Delta during the 2006-2010 period.
Speaking at a meeting with the Organization of Supervision on the National Defense and Public Security Committee on Sept 20, the head of the city People's Committee, Le Hoang Quan considered traffic jams in HCMC as crowds of ants jostling out from ant-hills when looked downward from above. He frustratedly added that every citizen dissipates 15 minutes for jams and with millions of people; it caused the city an awful, tremendous waste.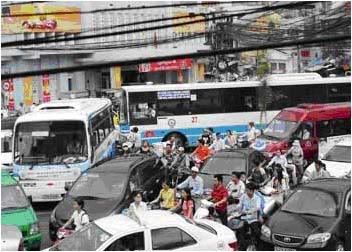 HCMC progressing traffic snarls on 5-6 pm everyday. Photographed by K.C.
According to the Department of Transportation and Public Works, the main reasons for recent traffic snarls are the sky-rocketing number of vehicles, the unfinished construction and rebuilding projects curbing circulations, the extreme priority for bus-transportation running in lanes for motorcycles, the unreasonable divisions of lanes and the encroachments over busy streets.
Head of the city Department of Transportation and Public Works, Tran Quang Phuong said there should be immediate
solutions against traffic congestion
for rampant areas to be dispersed. One-way street dividing will continuously be considered and enforced. For better customer services, bus-transportation needs re-adjusting by lane-rerouting and competitive bid. Though, having pointed out the measures, he only said "the
traffic congestion
may be improved better".
Racing for preventing traffic snarls
A project with many programs against traffic snarls has been recently submitted to the city People's Committee by the Department of Transportation and Public Works and is supposed to be approved in the manicipal authorities' meeting on Sept 22.
Besides, the Department proposed to complement another lane in streets which are over 8-meter width and have a queuing line of automobiles spreading across roundabout. Using regularly interrupted lines for division, a two-lane street is divided into two three-meter lanes for automobiles and one for motorbikes. The project which the Department considered feasible and which can be fastest conducted will be applied in areas of district 1 and 3; then in those of other districts in the fourth quarter.
The city also examined the application of outer bypass to prevent more-than-16-seat automobiles from transporting passengers in rush-hours from 4:30 pm to 7 pm and urged to accelerate some key projects in city sphere, such as Nam Ky Khoi Nghia – Nguyen Van Troi enlarging project, Nguyen Van Cu bridge building project, Thu Thiem bridge plan and city arch culvert improving project…
The Department suggested that certain streets in centered areas should be off-limits to motorbikes and automobiles in order to reduce urban gridlocks.
One of the causes of gridlocks is the suspending status of the construction of infrastructure projects. Therefore, the city should have a harsh penalty for contravening constructions as well as forced to reconstruct the streets' surfaces for ensuring traffic order and security.
Lack of headquaters
Talking to VNexpress in the afternoon Sept 20, the director of International University, Ho Thanh Phong- who is an expert of traffic congestion and has had many proposals of traffic snarls solutions for the city from 1999 to present- commented all the measure suggested and conducted by the Department are temporary. In the other hand, traffic control of the city has not gotten effectiveness, especially, lacked of administrative headquarters.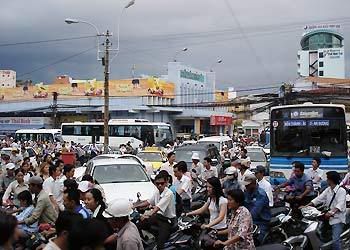 Traffic jam at roundabouts. Photographed by K.C.
The city has made a map of traffic congestion spots; in fact, he implemented there is only an inadequated coordination between traffic police and assault youth at the spots. He imagined there would appear an administrator organization in front of twinkling electrical map for commanding to beak up traffic congestion at any places when receiving a call from traffic police.
Concerning to traffic-lanes division, Mr. Phong maintained that it is an optimal but inadequate measure for tackling traffic congestion for its partial effect on some certain street. For example, when VVT and NTMK rerouted into one-way street for 3 months ago, the two streets seem airy but there appeared traffic jam in other around street like traffic congestion on CMT8 Street.
By using reproducing technique on computers for studying of traffic congestion solutions, Dr. HTP suggested some long-term strategies such as developing the infrastructure by constructing more overpasses; optimizing lane divisions by calculating red-traffic stopping length time, allowed speed and lanes for turning left or right; placing traffic lights at roundabouts…
In November, the project against traffic congestions by Ho Thanh Phong and his assistants is supposed to be submitted to HCMC Technological Scientific Department.
Read more:
Describe your house
Disadvantages of cinema
Importance of roads
Journey by train essay
My favorite pet essay
What means of traveling you choose for your trip?
Travel is a means of education
Means of traveling
My favorite sport football
Cac bai luan tieng anh
12
13
14
15
16
17
18
19
20
21
22
23
24
25
List Of Essay Topics
How I Learned To Swim
Popular Essays
Talk About Your Diary.
A Day At The Market.
Talk To Your Friends
A Man Is Known By The Company He Keeps
A Frightful Experience
Cable Car Ride
Your Father Advises You To Study Hard. Tell About What He Talks